Kinks star Ray Davies writes school musical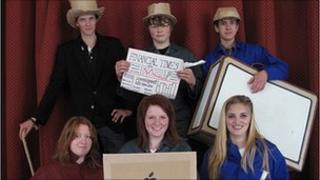 Kinks singer Ray Davies has used his band's hit songs to write a musical play tracing the last 60 years of cultural and political life in the UK.
But while bands such as Abba and Queen have had their music turned into hit West End shows, Davies' production will be performed by school pupils.
Students from John Ruskin School in Coniston, Cumbria, will perform Child's Play for the first time on Sunday.
They will be joined by two musicians at the Southbank Centre in London.
The soundtrack will feature Kinks tracks and songs from Davies' solo catalogue, including All Day and All of the Night, Waterloo Sunset, Dead End Street and Do It Again. Davies is not performing.
The teenage actors will portray three couples from different social classes who deal with events ranging from the death of Princess Diana to the global financial crisis.
The show "provides a commentary on the aspirations and disappointments through the decades of modern Britain, since the Festival of Britain in 1951", according to producers Grizedale Arts.
This weekend sees the climax of the Southbank Centre's celebrations to mark the anniversary of the festival.
Davies worked with the venue in June when he curated its annual Meltdown festival.
He has previously composed the music for various stage productions, including Chorus Girls, 80 Days and Come Dancing, based on the Kinks song of the same name.
Child's Play will also be performed in Coniston as part of Grizedale Arts' plans to revitalise the Coniston Institute, a former miners' institute and community arts and education centre.