TV cameras in court being 'considered'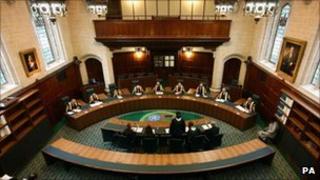 This round-up of Tuesday's main media stories reports on government plans to allow limited access for TV cameras in criminal courts.
The televised sentencing of offenders in English and Welsh courts is being considered by the goverment, reports BBC News. It is part of plans to improve transparency in public services. Filming would only take place of the sentencing, not the trials themselves or the verdicts delivered by the jury.
Four former executives from News International will return to face questions from MPs over phone hacking, reports Reuters.
They include former News of the World editor Colin Myler and legal manager Tom Crone who have previously disputed whether Rupert Murdoch and his son James knew of an email suggesting hacking was widespread at the newspaper.
"Their testimony is likely to increase pressure on James Murdoch, as two of the men have already contradicted Rupert's son over what he knew and when, while another has accused both Murdochs of 'serious inaccuracies.'"
It's the end of an era in newspaper history. News International is to sell its Wapping site in east London, as I reported for BBC News:
"Long before the current phone-hacking scandal, Rupert Murdoch's papers were at the centre of another controversy - and it made Wapping famous the world over. By moving production of the Sun, the Times, the Sunday Times and News of the World from Fleet Street to a new site in east London, Rupert Murdoch broke the power of the print unions, which for years had resisted new technology. The plant became known as Fortress Wapping, after bloody battles between striking print workers and the police."
But, as Roy Greenslade in the Guardian points out, the papers' headquarters haven't moved far - just to the nearby Thomas More Square: "I don't think such a short move will make much difference to the collective geographical noun for Murdoch's UK outfit. It's Wapping now and it will still be Wapping in future."
ITV1 drama Appropriate Adult, starring The Wire's Dominic West as killer Fred West, has impressed critics, reports BBC News. According to the Telegraph's Serena Davies, his performance in the first episode had been "a Bafta shoo-in". The Daily Mirror's Jim Shelley calls Emily Watson's performance as social worker Janet Leach "standout".
The first of the two-part series, which received two complaints, attracted an average audience of 4.4 million for ITV.
The controversy over Britain's alleged involvement in the forcible repatriation of a Libyan terror suspect features in most of the newspapers. Abdel Hakim Belhadj tells the Times "Britain has things to answer" while the Mail says he plans to sue Britain, as reported in the BBC papers review.