George Clooney movies to show at London Film Festival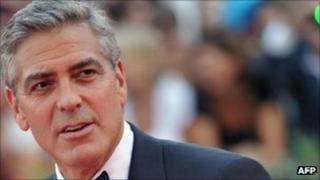 George Clooney's latest movie The Ides of March, which he directs and appears in, will receive its UK premiere at the BFI London Film Festival (LFF).
The film, which opened the Venice Film Festival last week, is about the betrayals that take place during a US presidential campaign.
Another Clooney movie, The Descendants, will be screened, as will Madonna's second film as director, W.E.
The festival, which runs from 12 to 27 October, will feature 204 films.
Ralph Fiennes's version of Shakespeare's Coriolanus and a new retelling of Wuthering Heights, from Fish Tank director Andrea Arnold, are included in the programme.
Shot in Yorkshire, the latter casts James Howson as a black Heathcliff and Skins' Kaya Scodelario as Cathy.
Other highly anticipated films at the festival include We Need to Talk About Kevin, based on the award-winning-book by Lionel Shriver.
Shame, the second film from Hunger director Steve McQueen, will also screen. It is hoped its stars Carey Mulligan and Michael Fassbender will attend.
Fassbender will also be seen alongside Keira Knightley and Viggo Mortensen in David Cronenberg's A Dangerous Method.
As previously announced, the festival will open with ensemble drama 360 and close with a new film of Terence Rattigan's play The Deep Blue Sea.
'Incredibly important'
British actress Rachel Weisz stars in both titles and is expected to attend one or both galas.
Peter Morgan, Oscar-nominated writer of The Queen and Frost/Nixon, said he was "surprised and thrilled" that 360, which he wrote, would be launching the festival.
"It's a big evening, it's my home town, there'll be a lot of people I know there so I'll be terrified," he told the BBC News website.
Events like the LFF, he continued, were "incredibly important" for "subtle, adult-themed" films like his multi-character look at love and relationships.
"A film like 360 would die without festival and critical support," he said. "Its audience will grow through recommendation and word of mouth and that takes time to build."
According to Sandra Hebron, the festival's outgoing artistic director, the recent civil unrest in London had not deterred anyone from taking part.
"We deal with film-makers and companies from all around the world and no one has exhibited any apprehension about coming to or being in London," she said.
This year's line-up, she continued, contains "a lot of films that grapple with very difficult, grown-up subjects".
"Film-makers are being very brave in dealing with hard contemporary issues," she said at Wednesday's programme launch in central London.
"There are no shortage of films that want to get under the skin of the modern psyche and modern society."