Rarely seen Lowrys fetch £318,000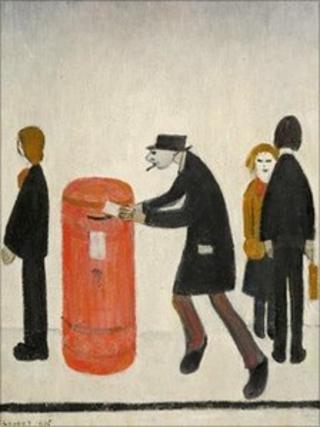 Four little-known works by LS Lowry, which were stored in a cupboard after their owners died, have been sold at auction for £318,000.
The works had hung in the Harrogate home of an unnamed couple, who have both died within the last few years.
Their children stored them away before selling them through Harrogate auctioneers Morphets.
The most valuable work to be sold was Man Posting a Letter, which was painted in 1965. It fetched £165,000.
The couple bought the oil painting directly from the artist in 1967.
The other paintings in the sale included 1965's Group of People, which went under the hammer for £64,000, and 1963's Man With a Cart, which sold for £55,000.
Family Group At The Seaside, a pencil sketch of downbeat children surrounding a long-haired man smoking a cigarette, raised £34,000.
All four went to anonymous private buyers, Morphets said.
The gallery held the first major exhibition of Lowry's work in 1938, after its then-director, Alexander Reid spotted some of the Lancashire artist's paintings waiting to be framed.
That exhibition sold eight paintings - one of which went to the Tate Gallery for £15. The Lefevre Gallery went on to host many more shows for Lowry as his star rose.
In May, Lowry's The Football Match, painted in 1949, fetched £5.6m at Christie's in London - a record for the artist.
Lowry, who died in 1976, was famed for his melancholy portrayal of industrial towns in the north-west of England.
Two paintings by the Lancastrian artist Helen Bradley, also collected by the couple, were also auctioned by Morphets, fetching a total of £68,000.