Aaron Sorkin TV news drama picked up by HBO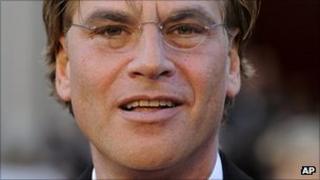 After winning an Oscar for The Social Network, screenwriter Aaron Sorkin is to return to TV, with a series about a cable news network.
HBO has commissioned 10 episodes of the show, which revolves around a news anchor striving for ethical journalism in the world of modern media.
Tentatively titled More As This Story Develops, it stars Dumb and Dumber actor Jeff Daniels in the lead role.
It will be The West Wing writer's first TV series since 2007.
His last outing, Studio 60 On The Sunset Strip, lasted just 22 episodes before it was cancelled.
That series was also set behind the scenes at a television station, with Bradley Whitford and Matthew Perry struggling to produce a late-night satirical sketch show.
More As This Story Develops will also star British actors Dev Patel and Emily Mortimer.
Mortimer will play an executive producer while Law and Order star Sam Waterson will appear as the boss of the fictional news team.
HBO said the show would follow the news crew as it set out on "a patriotic and quixotic mission to do the news well in the face of corporate and commercial obstacles and their own personal entanglements".
It is the first time Sorkin, whose screenwriting credits include A Few Good Men, Charlie Wilson's War and The American President, has written for a cable TV channel in favour of network television.
HBO, whose previous successes include Curb Your Enthusiasm, The Sopranos and The Wire, said it expected the series to air in the US next year.