New Mike Leigh play receives a title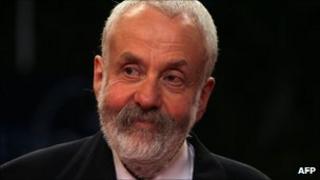 Mike Leigh's new play is to be called Grief, the National Theatre has revealed - just five days before previews start.
Little more is known about the production, which will be staged in the 300-capacity Cottesloe theatre.
The director is known for starting productions without a script and allowing his cast to improvise the plot and characters.
Leigh's previous stage work includes Abigail's Party and Babies Grow Old.
He is perhaps better known for his films - including Secrets and Lies, Vera Drake and Topsy Turvy - which have a similar improvisational genesis.
Following a 22-year break, the director returned to the stage in 2005, with a specially-commissioned production at the National Theatre.
Called Two Thousand Years, it was similarly shrouded in secrecy before its opening night.
Telling the story of a liberal, left-wing Jewish couple who suffer an identity crisis when their son starts wearing a skull cap, it was praised by critics as "screamingly funny" and "remarkably topical".
'No premise'
Rehearsals for Grief have also been held behind closed doors, with actors barred from giving interviews before the play opens.
The cast includes Leigh's most frequent collaborator, Lesley Manville - who has appeared in all of his films since 1999 - alongside regulars Marion Bailey, Sam Kelly and Wendy Nottingham.
Speaking to the BBC News Website last year, Manville talked about initial preparations for the production.
"You start with nothing," she said.
"The title comes last, character will start to come on day one of rehearsal, but there's no premise."
A spokeswoman for the National Theatre said changes to the play would be made right to the last minute.
Grief opens on 21 September, with previews from 14 September. It will go on tour to Bath and Cambridge later in the year.