Michael Jackson death: Court narrows down jury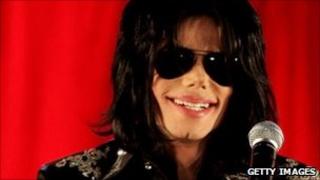 A court in Los Angeles has completed the first phase of selecting a jury for the trial of Michael Jackson's doctor Conrad Murray.
A total of 145 people have been chosen to go forward to the next stage of the selection process.
This involved completing a 30-page questionnaire about the pop star, his music and the media coverage of his death in June 2009.
Dr Murray has pleaded not guilty to charges of involuntary manslaughter.
The potential jurors were also asked whether they knew anyone on a long list of people who may be called as witnesses during the trial, such as the singer's three children, his parents and brothers and sisters.
Superior Court Judge Michael Pastor decided there were sufficient prospective jury members available to go on to the next stage, in which they will be questioned in court on 23 September.
The questionnaire asked potential jurors to give their thoughts about the singer and the fact his family members would be in court for the evidence.
They were asked whether they had seen the posthumous Jackson concert movie This Is It, or had bought any of his CDs, DVDs or memorabilia.
Questions included: "Have you ever considered yourself a fan of Michael Jackson or the Jackson family?"
They were also required to say how much they knew about the case against Dr Murray.
Dr Murray's lawyer Edward Chernoff has already said in court that the defence's position is that Jackson was addicted to the painkiller demerol and was withdrawing from it when he died.
Dr Murray, who was hired by Jackson to help prepare for his planned July 2009 comeback concerts at London's O2 Arena, was in charge of administering the anaesthetic to the star.