Plans to measure share of media ownership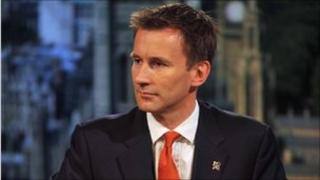 This round-up of Monday's main media stories reports on government plans for an agreed measure of media ownership in the UK.
The Guardian says the Culture Secretary Jeremy Hunt will this week ask the media regulator Ofcom to establish an agreed means of measuring cross-media power in the UK.
It says he wants to consider whether to set a limit for the market share of Rupert Murdoch or the BBC to cap their influence over British media.
"In the wake of the row surrounding Murdoch's abortive bid for BSkyB, the minister wants Ofcom to create a common currency for measuring media ownership that would stretch across TV, newspapers, radio and other media" says the paper. It goes on to say Mr Hunt's ambition "is to use this to introduce a new set of cross-media ownership rules".
The Daily Mail says "a tirade of foul-mouthed abuse by an England rugby player was broadcast to millions at the weekend - and left TV bosses scrambling to prevent a repetition". It says more than 4.8 million viewers - including young families watching because of the morning kick-off - heard the bad language on ITV at the end of England's narrow victory on Saturday. ITV apologised and cut the language from its highlights and web clips.
The Independent says the phone-hacking scandal is set to be reignited this week when a former prostitute is interviewed on Australian television. It says Natalie Rowe came to prominence in October 2005 when a picture of her at a dinner table with George Osborne was published in two red-top Sunday papers. It says she "has been told by police she was targeted by Glenn Mulcaire, later convicted for phone hacking while being paid by News International, owner of the News of the World. Mr Osborne has received the same notification."
Writing in the Daily Mail, the former chairman of Radio 4's Gardeners' Question Time Stefan Buczacki says the programme has lost its sparkle, authority and sense of location under an independent production company which also produces pop shows. "It is high time the BBC took it back to its horticultural and broadcasting roots and left the production company Somethin' Else to do, well, Somethin' Else." He says the BBC scrapped similar changes to TV's Gardeners' World, "to the delight of gardeners everywhere", and should do the same with GQT.
Many of the newspaper front pages are dominated by a picture of a father mourning his lost son at the memorial at Ground Zero for the victims of the 9/11 attacks. The Daily Telegraph describes how families lingered over the names of loved ones during ceremonies to mark the 10th anniversary of the attacks, as reported in the BBC's newspaper review.