Stephen Fry to replace Jonathan Ross as Bafta film host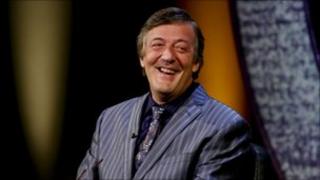 Stephen Fry is to return as the host of the Bafta film awards next year, taking over from Jonathan Ross.
Fry hosted the event between 2001 and 2006, before deciding to step down.
"The adorable Jonathan Ross has done a magnificent job since I last hung up my bow-tie... and I am honoured... to return to the lectern," said Fry.
The ceremony is the UK's most prestigious film awards. Ross said he had "thoroughly enjoyed" hosting the Baftas and wished Fry the best.
"Hard as it may be for some characteristically sceptical Britons to believe, the Baftas have real kudos, reputation and cachet all over the world of film-making," said Fry.
"I am sure it will be an evening of squeals, surreally weird acceptance speeches and genuinely exciting surprises and pleasures."
The King's Speech won seven awards at this year's Baftas, which took place in February.
Next year's ceremony will be broadcast on Sunday 12 February.
When Fry quit hosting the ceremony in 2006, he said: "It has been a tremendous six years, and I look forward to watching it without nerves in the future."