All My Children star Mary Fickett dies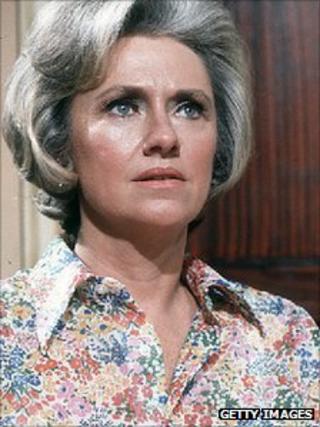 Mary Fickett, an original cast member on US soap opera All My Children, has died at her Virginia home after a period of ill health, aged 83.
The actress played nurse Ruth Martin in the show's first episode in January 1970 and last appeared in 2000.
She made history in 1973 when she became the first performer to receive an Emmy for work on daytime television.
The soap will dedicate an episode to the actress on 21 September, two days before the entire series ends.
Fickett had two spells on the series, which is set in the fictional Pennsylvania town of Pine Valley, first from 1970 to 1995 and then again from 1998 to 2000.
She won her Emmy after her character's son was sent to Vietnam and she became a vocal critic of the war - a storyline that troubled TV executives at the time.
Over the years, viewers also saw Ruth experience an abusive first husband and a rape at the hands of her adopted son's biological father.
In Fickett's last episode, her character and on-screen husband, Dr Joe Martin, retired to Florida after years of melodrama.
'Revered'
Born in New York state in 1928, Fickett was surrounded by drama from an early age.
Her father produced the radio series Theatre Guild on the Air, and she made her stage debut in 1946.
She won a Tony nomination for her portrayal of Eleanor Roosevelt on Broadway in 1958, before finding work in television series such as The Untouchables.
Her marriages to actor James Congdon and businessman Jay Leonard Scheer ended in divorce. Her third husband, soap-opera director Allen Fristoe, died in 2008.
"We at ABC were very saddened to learn about the passing of one of All My Children's original cast members," the network said in a statement.
"As we honour All My Children's 41 years on ABC, we cannot help but recognize and remember Mary's wonderful depiction of Pine Valley's revered Ruth."
The actress is survived by a daughter and a son.