Tyler Perry tops Forbes Hollywood list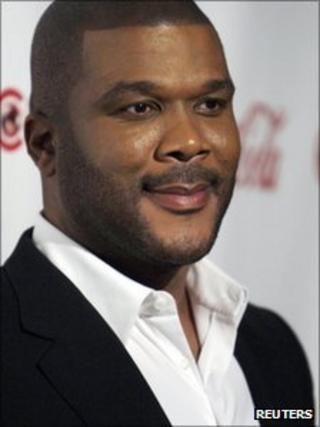 Actor, writer, producer and director Tyler Perry is Hollywood's highest-paid man after earning $130m (£82.3m) in a year, according to Forbes.com.
The 42-year-old, best known for playing a foul-mouthed grandmother in the Madea films, earned the figure between May 2010 to May 2011, Forbes said.
Blockbuster producer Jerry Bruckheimer was second with $113m (£71.5m) followed by Steven Spielberg, on $107m (£67.7m).
Elton John was fourth on the Forbes list, based on estimated earnings.
Perry, whose films rarely find an audience outside the US, recently helmed an adaptation of stage play For Colored Girls Who Have Considered Suicide When the Rainbow Is Enuf, which starred Whoopi Goldberg, Thandie Newton and Janet Jackson.
His involvement in the forthcoming movie, I, Alex Cross, will be a rare acting-only appearance.
In the film, he will play the titular detective, created by writer James Patterson, who is at number six on the Forbes list with estimated earnings of $84m (£53.2m).
During the 12-month period examined by Forbes, Bruckheimer produced films including the fourth Pirates of the Caribbean movie, On Stranger Tides, and oversaw hit TV shows including the CSI franchise and The Amazing Race.
Spielberg, meanwhile, produced films including Cowboys & Aliens and returned to the director's chair for two films that are likely to be big hits this winter - War Horse and The Adventures of Tintin.
Elton John, whose most recent tour made more than $200m (£126.6m), personally earned $100m (£63.3m), according to Forbes.
X Factor creator Simon Cowell, meanwhile, was in fifth place with $90m (£57m).
TV psychologist Dr Phil McGraw was seventh, with $80m (£50.6m), followed by Leonardo DiCaprio, with $77m (£48.7m).
Radio DJ Howard Stern was in ninth place, with $76m (£48.1), while golfer Tiger Woods was 10th, with $75m (£47.5m).