Lib Dems propose fines for newspapers who misbehave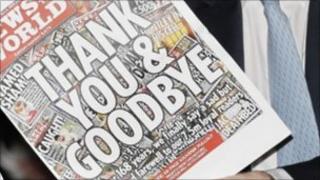 This round-up of Wednesday's main media stories reports on new proposals to curb press misbehaviour.
The Guardian says Liberal Democrats plan to propose that "heavy fines large enough to change media executives' behaviour should be imposed on errant newspapers by a new independent press regulator".
It says an emergency motion, due to be discussed at the party's conference next week, calls for the fines to be large enough to change the culture of newspapers in the wake of the phone-hacking scandal at News International. Papers would also be required to put corrections in more prominent positions than at present.
James Murdoch will face more questions from MPs investigating the News of the World phone-hacking scandal, reports BBC News. The Commons culture committee has recalled News International's chairman to give evidence, after it heard conflicting evidence over what he knew.
The company said Mr Murdoch would be "happy to appear". Separately, it has emerged that the mother of a 7/7 bombing victim is to pursue a civil case against News International, as one of six test cases for civil damages claims.
The Culture Secretary Jeremy Hunt will outline plans for a new Communications Bill when he speaks at the Royal Television Society's Cambridge Convention this evening. BBC technology correspondent Rory Cellan-Jones examines one of his expected proposals - that internet service providers and search engines, such as Google and BT, should play a far bigger role in combating piracy on the web.
Every war has a media face, says the Independent: "Kate Adie in the Gulf conflict of 1991, John Simpson in Afghanistan in 2001, 'Scud stud' Rageh Omaar in Iraq in 2003. But the particular media focus for the Libyan revolution was that the first three reporters into Green Square, Tripoli, were all women: Crawford, Sara Sidner, of CNN, and Zeina Khodr, of al-Jazeera English - much to their surprise." But the paper asks why female war reporters are still judged by their sex.
There is good and bad news for Ed Miliband in today's papers as the Labour leader gears up for his party's conference in Liverpool later this month. The Times leads with a poll that finds nearly two-thirds of voters cannot imagine him becoming prime minister but the Sun praises his courage for addressing a hostile TUC conference yesterday, as reported in the BBC's newspaper review.