Frank Skinner to write and star in Radio 4 comedy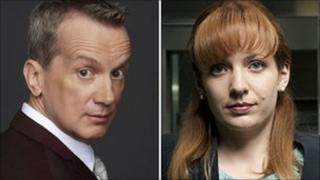 Comedian Frank Skinner is to write and star in a BBC Radio 4 sitcom, Don't Start, which will start next month.
The IT Crowd's Katherine Parkinson will star opposite Skinner in the four-part series, about a couple who argue about a different issue each week.
"I've spent an unhealthy percentage of all my relationships in argument mode," the presenter and stand-up said.
The 54-year-old said he was inspired by the dextrous bickering in many Spencer Tracy and Katherine Hepburn films.
"Sometimes it's simply destructive but, on other occasions, it can be like an elaborate verbal dance.
"One of the characters in Don't Start talks about finding 'poetry amidst the bile'.
"Radio loves language and that gives me licence to explore a style of comedy that loves language too."
Avalon, the company which manages Skinner's career, is also producing the series.
It said the set-up allowed the couple to continually outdo one another with "increasingly absurd images, unexpected literary references and razor sharp analysis of their beloved's weaknesses".
In the first episode a text message and the refusal to eat celery sparks the first argument.
Don't Start begins on 5 October at 11:00 BST.