Wade Mainer 'Godfather' of country music dies aged 104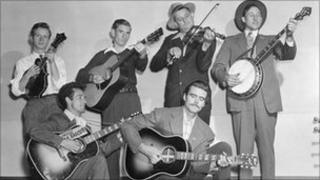 Country music artist Wade Mainer, dubbed the "Godfather of North Carolina country music", has died aged 104.
The musician passed away at his US home in Flint, Michigan.
He was the most-recorded country artist during the 1930s, according to local newspaper the Charlotte Observer.
A member of late brother JE Mainer's Mountaineers, he was credited with inventing the two-finger banjo picking style that paved the way for the Bluegrass era.
Mainer made recordings for all the major labels of the day, including RCA in 1935.
In 1942, he performed in the White House for US president Franklin Roosevelt.
Country and bluegrass artist Ricky Skaggs told news agency the Associated Press that Mainer's Mountaineers "influenced" the Monroe Brothers, The Delmore Brothers, The Stanley Brothers, Flatt and Scruggs and Reno and Smiley.
A funeral service for the Mainer has been scheduled for Friday. He is survived by his wife, Julia, whom he often performed with him.