Michael Jackson family requests trust $30m fund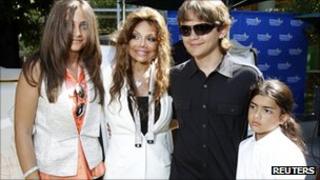 Executors of Michael Jackson's estate have asked a judge to allow them to put aside $30m (£19m) million in a trust fund for the late star's family.
Jackson had debts of $400m (£253m) when he died in 2009, but his estate has since made more than $310m (£196m).
Executors said they have reduced the debt by more than $90m (£56m).
Permission has also been sought from Superior Court Judge Mitchell Beckloff to sell Jackson's long-time family home in the Los Angeles suburb of Encino.
The property, where Jackson grew up was valued at $4.15m (£2.6m) in 2010.
Jackson's mother Katherine and his three children Paris, Prince and Michael Joseph Jr are beneficiaries of his estate and have been living at a rented property.
Executors John Branca and John McClain have been dealing with Jackson's accounts since the singer passed away two years ago.
"Since that date, the estate assets have continued to generate additional income," they said.
The assets include Jackson's music catalogue, Mijac, and Sony/ATV publishing, which includes portions of The Beatles catalogue.
Jackson's This Is it concert film, which followed the singer's preparations for fifty dates at London's O2 prior to his death, is the highest grossing concert movie of all time, raking in more than $261m (£165m) worldwide.
A court hearing has been scheduled for 28 September for a decision to be made on the trust fund.
The singer died aged 50 from an overdose of prescription drugs.
Jackson's doctor at the time, Dr Conrad Murray, has been charged with involuntary manslaughter but has pleaded not guilty.
A Los Angeles court is currently selecting potential jurors for his trial.