Jeremy Hunt: Media regulation needs updating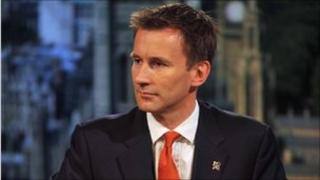 This round-up of Thursday's main media stories reports on government plans for a new Communications Bill to regulate the media.
The Culture Secretary Jeremy Hunt has said traditional ways of regulating the media need updating, as broadcasters, newspapers and internet companies develop new products for smartphones, tablet computers, and web TV. Outlining plans for a new Communications Bill, he challenged newspapers to help develop a new cross-media system for their regulation, following the phone-hacking scandal. I report on BBC News that Mr Hunt does not want newspapers to face statutory regulation, but says they must have a robust system with credible sanctions - free from interference by politicians and by media owners.
The Guardian adds Jeremy Hunt said politicians could be barred from making decisions on media mergers. "The proposal would end the arrangement under which the business secretary can block the acquisition of media companies on public interest grounds" says the paper. It goes on to explain Mr Hunt told the Royal Television Society convention that the proposed takeover of BSkyB by News Corporation, which was abandoned at the height of the phone-hacking scandal, raised questions over the role politicians played in approving such deals.
The award-winning Independent columnist Johann Hari has apologised for plagiarising the work of others to improve his interviews and will take unpaid leave of absence from the paper until 2012, reports the Guardian. It says "Hari is also handing back the George Orwell prize he won as 'an act of contrition for the errors I made elsewhere, in my interviews' and will undertake 'a programme of journalism training' during his leave of absence."
The parents of Madeleine McCann, actor Hugh Grant and Harry Potter creator JK Rowling have been named as core participants in the first stage of the Leveson inquiry into the phone-hacking scandal, reports the Daily Telegraph. It says they are among a group of ''victims'' who will be represented by a barrister and have the right to seek to cross-examine witnesses and make opening and closing statements.
Efforts by France and Germany to ensure the future of the eurozone feature prominently in many of today's papers. The Independent says the intervention of European Commission president, Jose Manuel Barroso, is an ultimatum to German to act now, as reported in the BBC's newspaper review.