Critics praise Alan Ayckbourn play Neighbourhood Watch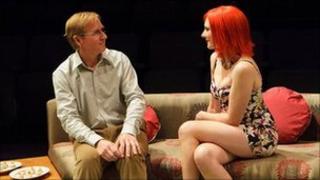 Alan Ayckbourn's 75th play has opened in Scarborough to glowing reviews.
The Guardian's Michael Billington described Neighbourhood Watch as "highly ambitious, biliously funny and right on the button".
The play follows a group of residents of a respectable suburban area who take the law into their own hands after being threatened by a crime wave.
The play is on at the Stephen Joseph Theatre, where Ayckbourn was artistic director for 37 years until 2009.
It stars Matthew Cottle and Alexandra Mathie as a brother and sister who move into a middle-class area and set up a neighbourhood watch scheme to ward off the "drugs, violence and incest" from a housing estate down the road.
Billington also noted the the sharpness of Ayckbourn's "social antennae", with this satire on anxieties about law and order coming a month after the English riots.
The Daily Telegraph critic Charles Spencer wrote that the "timely and provocative play rivets attention throughout".
"At a time when many want a stronger emphasis on law and order in our 'broken' society, Ayckbourn's play sounds a warning note that is as perceptive as it is entertaining," he added.
The Stage reviewer Mark Shenton described it as "a brilliant social comedy that is also a fierce and provocative political drama".
Neighbourhood Watch runs at the Stephen Joseph Theatre until 15 October before going on tour to Newcastle-under-Lyme and Bowness-on-Windermere. It will then move to New York as part of the Brits Off Broadway festival.