Rooney sues stepson over 'abuse'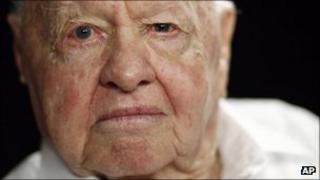 Veteran US actor Mickey Rooney is suing his stepson, Christopher Aber, saying he tricked him out of millions of dollars and bullied him into working.
Mr Aber spent the 90-year-old's money "as if it were his own" and "kept him in poverty", Mr Rooney has alleged in court papers filed in Los Angeles.
In March, Mr Rooney handed over complete control of his finances to his lawyer Michael Augustine.
Speaking to AP, Mr Aber accused Rooney's lawyers of driving the case.
"This lawsuit is not from Mickey Rooney - it's from his conservators who are stealing from him," said Mr Aber, the son of Mr Rooney's eighth wife, Jan Chamberlin, who married the star in 1978.
Mr Aber, his wife Christina and others are accused of crimes including breach of trust, abuse and fraud - over the course of a decade.
It is alleged that Mr Rooney was tricked into believing he was on the brink of poverty and was told he would lose his house and medical benefits if he did not continue working.
Mr Aber is accused of re-routing Mr Rooney's mail and taking control of his income, including royalty cheques of about $12,000 (£7,600) a month.
He also stands accused of using his step-father's money to buy a Porsche, two Mercedes Benz cars and a $100,000 (£63,000) racing car, as well as applying for - and using - credit cards in Mr Rooney's name.
"While Chris instilled fear in Mickey and kept him in poverty, Chris took advantage of his unfettered access to Mickey's income," the documents say.
"Chris consistently paid himself a generous salary from Mickey's earnings, took advances on his salary and spent Mickey's money as if it were his own."
Earlier this year, Mr Rooney was granted a temporary restraining order against his step-son, after accusing him of bullying and intimidation.
Mr Rooney, the star of films including National Velvet, Summer Holiday and The Black Stallion, rose to fame as a child in the 1930s and 1940s.
He recently completed filming of The Muppets movie, due out early next year.