BBC chairman Lord Patten wants more women on air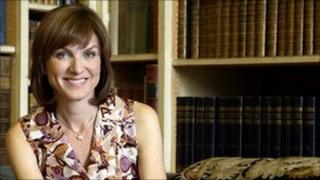 BBC Trust chairman Chris Patten has said there are not enough women in on-air roles at the public broadcaster.
"We should have more women on radio and television," the former Conservative party chairman said in an interview with The Observer.
He singled out Radio 4's Sarah Montague and Martha Kearney as being among the "good ones".
The BBC pledged two years ago to find more women, particularly older women, to front its shows.
It later announced that Julia Somerville, Carole Walker, Fiona Armstrong and Zeinab Badawi had been appointed to front its news bulletins.
But earlier this year, Walker criticised the move as "nothing more than a PR stunt".
"It is now 16 months since the BBC announced that I was to be one of four older women presenters on the BBC News Channel," she said.
"Last year I was given fewer than 20 days in the role.
"This year so far I have been given just one presenting shift."
'No conspiracy'
Other voices criticising the BBC on gender issues have included newsreader Anna Ford and actress Caroline Quentin.
Quentin, whose shows include Jonathan Creek and Men Behaving Badly, said there were "many, many more men" on screen than women.
"It's mostly men of a certain age who seem to be getting the roles - blokes are dominating drama," she told TV Choice magazine.
Meanwhile, former Countryfile presenter Miriam O'Reilly won an age discrimination tribunal against the BBC earlier this year after it dropped her from the programme.
She was later rehired to present BBC One's Crimewatch Roadshow.
In his interview, Lord Patten stated that women should be better represented on the BBC.
"I'm 67, for heaven's sake, and I'm married to a charming and beautiful 66-year-old, and I would be delighted if she was the face of anything on television," he said.
He also praised newsreader and Antiques Roadshow host Fiona Bruce as an example of female talent at the BBC.
"I saw her programme on royal palaces, which she wrote as well as presented," he said.
"I thought she was terrific. But there should be more."
Lord Patten also indicated there was a question to be answered about the rationale for the BBC licence fee which is levied on TV viewers, saying "there's a growing disjuncture between the technology and the tax".
"More and more people are not watching on a television. That doesn't deal with the intellectual case for a form of taxation to pay for a public good, but it does raise issues about what that tax should be based on."
The current licence fee agreement is due to expire in 2017. A programme of cuts is under way at the BBC after the previous settlement was lower than expected.