Phone hacking: Milly Dowler's family 'have been made a £3m offer'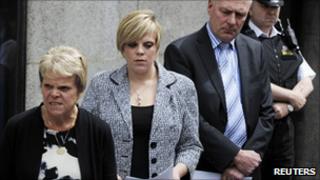 This round-up of Tuesday's main media stories reports on a possible £3m compensation payment in the phone-hacking scandal.
The Guardian says Milly Dowler's family have been made a £3m offer by Rupert Murdoch's News International in an attempt to settle the phone-hacking case that led to the closure of the News of the World. It is understood to include a personal £1m donation to charity by Murdoch himself as well as contributions to the family's legal costs.
The paper says: "The sums under negotiation are far larger than other phone-hacking settlements reached - and amount to one of the largest payouts ever made by a newspaper owner - reflecting the fact that the phone-hacking case affected a family who were victims of crime."
Teenagers who watch films showing actors smoking are more likely to take it up, according to new UK research, reports BBC News. Experts at Bristol University who questioned 5,000 15-year-olds say their findings should prompt a change in film certification so that under-18s are no longer exposed to such images. But pro-smoking choice campaigners say this is "unjustified and nonsensical".
As Downton Abbey returned to ITV1, the Daily Mail says many viewers "were left furious after the commercial broadcaster crammed a quarter of the programme's 90-minute slot with advertising and cross-promotion." It says there were 23 minutes of promotion with only 67 minutes of the drama - "that's one minute of adverts for every three of Downton Abbey". Media regulator Ofcom told the paper there was also a complaint about the suitability of the advertising, with sponsor Aviva promoting life insurance while Downton depicted scenes of soldiers dying in the First World War trenches.
Downton Abbey beat BBC spy drama Spooks in the opening battle for Sunday night's ratings, with twice as many people watching the ITV1 period drama, reports BBC News. An average 4.6m viewers tuned in to watch the start of Spooks' 10th and final series, while 9.3m saw Downton's second series opener. The X Factor, which preceded the drama on ITV1, achieved an average audience of 11.5m, according to overnight figures.
A reported £3m compensation package for the family of murdered schoolgirl Milly Dowler is the main story for many papers. The Daily Mirror notes that the sum from News International would be a record compensation payment, while the Independent suggests it would be a game changer for those yet to settle, as reported in the BBC's newspapers review.