German conductor Kurt Sanderling dies aged 98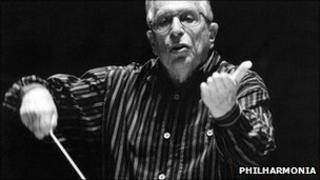 German Conductor Kurt Sanderling, who fled Nazi Germany for Moscow in 1936, has died in Berlin at the age of 98.
His son Stefan said he "fell asleep peacefully surrounded by his family".
After years as a top conductor in the Soviet Union, Sanderling returned to Germany, leading the Berlin Symphony Orchestra from 1960 to 1977.
London's Philharmonia Orchestra, for which Sanderling had been conductor emeritus since 1996, praised him as "a giant among conductors".
Sanderling, who was particularly celebrated for his readings of symphonies by his friend Shostakovich, died on Saturday, two days short of his 99th birthday.
Upon his arrival in Moscow, he worked with the city's radio symphony orchestra before becoming joint principal conductor of the Leningrad Philharmonic Orchestra from 1942 to 1960.
Sanderling once said the Soviet Union had "saved me from the Holocaust" and had enabled his "extraordinary career".
After returning to East Germany, he was also chief conductor with the Dresden Staatskapelle from 1964 to 1967.
He toured extensively and in 1972, conducted London's Philharmonia Orchestra for the first time, taking over from Otto Klemperer.
That was the beginning of a long-lasting relationship with the Philharmonia which culminated in his appointment as conductor emeritus in 1996.
Chairman and joint principal trumpet of the Philharmonia, Alistair Mackie, said Sanderling's knowledge was "brought to bear on his music-making with an intense but often humorous focus".
"He conducted the Philharmonia until nearly 90 years of age and latterly would begin each new rehearsal period with a wry smile and the words 'still here'," Mr Mackie added.
"His rehearsals were often coloured with imagery to describe how a passage should sound and musicians still exchange stories about their favourites."