Actor Richard Gere to collect Rome Film Festival honour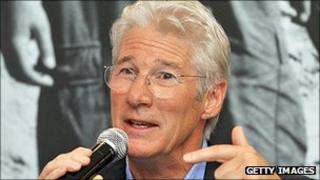 Film star Richard Gere is to be honoured with a lifetime achievement award at the Rome Film Festival, organisers have announced.
The 62-year-old, whose credits include Pretty Woman, will collect the Marcus Aurelius acting prize at the gala, which begins on 27 October.
A restored version of Gere's first starring role in 1978 film Days of Heaven will be screened at the event.
Previous recipients of the award include Meryl Streep and Al Pacino.
Organisers of the Rome festival, which is in its sixth year, cited Gere's body of work with directors including Robert Altman and Francis Ford Coppola.
The star of An Officer and A Gentleman and American Gigolo is also commended for being "in the front line of so many humanitarian battles".
Gere will discuss his early career in front of an audience of film fans at the festival.
The gala, which takes place in the Italian capital until 4 November, will open with Luc Besson's The Lady, a biopic of Burmese pro-democracy leader Aung San Suu Kyi.
The movie premiered at the Toronto Film Festival earlier this month.
Celebrated Italian film composer Ennio Morricone will act as president of the jury at the event.