Art gallery plan for former Leeds Tetley brewery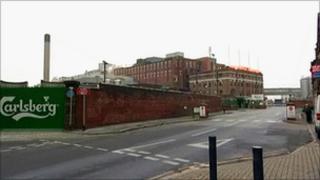 The former Tetley's Bitter brewery in Leeds, which closed in June, could be turned into a modern art gallery under plans drawn up by its owners Carlsberg.
Ale had been brewed on the site since Joshua Tetley took it over in 1822.
Now, plans are being submitted to turn part of its historic headquarters into a two-floor gallery to host exhibitions by established contemporary artists.
Gallery director Kerry Harker said: "We think that the city really needs an independent visual arts hub."
Mrs Harker jointly runs Project Space Leeds, a gallery for emerging artists, but says the city lacks a venue for artists at the next stage of their careers.
"There are very few exhibition opportunities for artists who are based locally, and we're trying to plug that gap," she said.
'Perfect storm'
"Pippa [Hale, joint director] and I go to virtually every other regional city in the UK and there is a permanent independent contemporary visual arts space.
"We've seen the massive popularity of places like the Hepworth Wakefield and the Turner Contemporary that's just opened in Margate, but there are lots of other existing ones."
The transformation of industrial buildings into cultural destinations was pioneered by the Tate Modern, in an old power station in London, and the Baltic, a former old flour mill in Gateshead - although the Leeds gallery would not be on the same scale.
The Tetley's brewery was closed after Carlsberg said the beer market faced the "perfect storm of falling consumption, increasing costs and rising tax".
The beer is now brewed at several sites around the UK, including the Marston's plant in Wolverhampton.
Some parts of the Leeds complex are being demolished, with a new car park and green space also in the plans.
The plans are on display at Tetley's House from 13:00 to 20:00 BST on Thursday as part of a public consultation.