Helen Mirren on action roles and spying in The Debt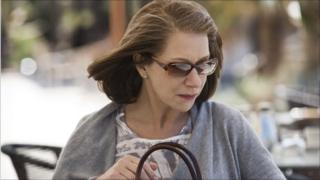 Dame Helen Mirren plays an ex-Israeli secret agent in The Debt. She even gets her first fight scene. Now, at the age of 66, the Oscar-winning actress wants more action roles.
Spoiler warning: This article contains a plot detail which anyone planning to see the film may wish to avoid.
Last year, Dame Helen Mirren appeared in Hollywood action comedy RED as a gun-toting ex-spy alongside Bruce Willis.
RED stood for "Retired, Extremely Dangerous".
In The Debt, Mirren is an ex-Mossad agent named Rachel Singer, and bears the scar of a secret mission from 30 years earlier.
"She's retired, but not very dangerous," she laughs when I point out the similarity. "Well, she doesn't think of herself as dangerous."
The Debt is adapted from the 2007 Israeli film Ha-Hov, with a script by Matthew Vaughn, Jane Goldman and Peter Straughan.
Events unfold over two time periods. In 1997, retired spies Rachel (Mirren), Stephan (Tom Wilkinson) and former colleague David (Ciaran Hinds) are venerated as national heroes for their Nazi-hunting activities three decades earlier.
When the story flashes back to east Berlin in 1965-1966, the spies' younger incarnations are played by actress-of-the-moment Jessica Chastain (The Tree of Life, The Help, Take Shelter), Marton Csokas, and Avatar's Sam Worthington.
They have been sent to track down and kidnap Nazi war criminal Dieter Vogel, the "Surgeon of Birkenau", played by Bond baddie Jesper Christensen.
Mirren and Chastain don't share any screen time as the older and younger Rachel, so how did they ensure continuity in the character?
"We spent an afternoon just discussing little elements that you'd probably never notice in the movie that would bring us together," explains Mirren.
"Jessica did a lot of hard work watching film of me. I've been doing press for such a long time so there is stuff on YouTube of me at a young age doing TV interviews."
Mirren pauses. "Gosh, it's terrifying how that stuff can come back to haunt you!"
The second half of the film moves back to 1997, where Mirren's character is forced to deal with the repercussions of events in 1966.
'Fight to the death'
Mirren also gets the first full-on fight scene of her movie career.
"For a very long time girls weren't allowed to have fight scenes, it just didn't happen. Now they can and Angelina Jolie does them all, but for a woman of my age a fight scene is pretty rare.
"I called it 'The Geriatric Fight' - when you go down it's very hard to get up again. We wanted it to be very realistic, they are both old but they are fighting to the death."
She adds: "With the whole movie it was important there was a feeling of veracity about it. If it had slipped into being a slick Bourne Ultimatum kind of movie, I think it would have lost an awful lot."
The Debt reunites Mirren with director John Madden (Shakespeare in Love), with whom she worked on Prime Suspect 4.
If Detective Chief Inspector Jane Tennison is her best-known small screen role, Mirren's long movie career was crowned in 2007 when she won her first Academy Award for The Queen.
On stage two years later she tackled a different type of queen, Phedre, in the blood-drenched Jean Racine play at the National Theatre.
Since then, Mirren's film work has shown remarkable variety: recent roles include Prospera in The Tempest, nanny to Russell Brand's Arthur, Ida in Brighton Rock, Victoria in RED and Tolstoy's wife in The Last Station.
She has been recently filming a Phil Spector biopic which looks at the events surrounding the shooting of actress Lana Clarkson in 2003. Mirren plays Spector's lawyer, with Al Pacino as the legendary record producer.
But is there a role Mirren feels has eluded her during an acting career that straddles six decades?
"The action role did elude me for a long time, but I've recently stepped into that, and I'm thrilled - more of that please.
"I have not done a horror film but I don't like horror films so I don't really want to do one, but I do love the noir movie - that's right up my alley.
"Brighton Rock had that noir-ish feel about it, but I would love to do a real full-on film noir."
The Debt is out in the UK on 30 September.