Broadcasters ordered to hand over riots footage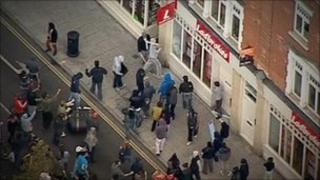 This round-up of Friday's main media stories focuses on court orders forcing broadcasters to hand over footage of the August riots.
The Guardian reports that the BBC, ITN and Sky News have handed hours of unbroadcast footage of the August riots to police after being served with court orders by Scotland Yard under the Police and Criminal Evidence Act 1984. A BBC spokesperson said: "Regardless of the subject matter... we require requests for untransmitted material to be made through the courts. A production order requiring footage of the riots was served on the BBC and a court agreed that the material should be supplied."
The Independent adds fears were expressed last night that police demands for footage may make the reporting of public disturbances in Britain "even more dangerous".
Sienna Miller tells the Independent that stories about her private life in the News of the World in 2005 and 2006 made her increasingly paranoid that she was being betrayed by a member of her inner circle. The paper says it's her first interview to discuss the settlement of her damages claim with Rupert Murdoch's News International. Miller was the first celebrity to bring civil proceedings against the News of the World for the interception of voicemails, which led to the disclosure of evidence implying that journalists other than disgraced royal editor Clive Goodman were involved.
Facebook has outlined plans to encourage users to share more of the media they consume - including music and movies - with friends, reports BBC News. Facebook's founder Mark Zuckerberg also unveiled a dramatic redesign to the website, replacing user profiles with an audio visual timeline of their life. The updates were revealed at Facebook's annual F8 developer conference.
The BBC has redesigned the home page of its website. New Media Age describes the site's features as including "a sliding news carousel, designed to give users easy access to the top news stories, and a broader range of news... and to emulate how people navigate tablet devices by swiping content".
David Cameron's fresh warning over the economy is widely reported in the papers. The Guardian says it is his "gravest" message so far, and also quotes him urging eurozone leaders to offer decisive political leadership, as reported in the BBC's newspapers review.