Arnold Schwarzenegger to write memoirs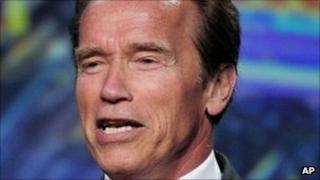 Hollywood star-turned-politician Arnold Schwarzenegger is to write his memoirs, his New York publisher has confirmed.
Total Recall: My Unbelievably True Life Story will offer "a larger-than-life portrait" of the Terminator star, said publisher Simon & Schuster.
"Truly, Arnold is one of the most fascinating figures of our time, and one of the greatest success stories in the world," said Jonathan Karp.
Schwarzenegger began working with a ghost writer earlier this year.
The biography will follow Schwarzenegger from his native Austria, via his body-building success, to his roles in blockbuster hits such as True Lies and Predator and, eventually, to political office in 2003.
"Nobody has a life story even close to his," said Mr Karp, of Simon & Schuster.
"To go from poor immigrant to world class athlete to the biggest movie star in the world to governor of California is an incredible journey."
Marriage troubles
There is no indication as to whether the memoirs will address his recent separation from his wife, Maria Shriver.
The actor separated from Shriver, his wife of 25 years, in May, amid revelations that he had fathered a child out of wedlock.
Shriver filed for divorce in July. The couple have four children together.
The former Governor of California left political office in January this year, planning to resume his career in Hollywood.
Following a cameo in 2010's The Expendables, he is due to make his return to the big screen in Western movie The Last Stand, playing a border-town sheriff.
His memoirs are scheduled for publication in October next year.