Portishead exorcise US tour demons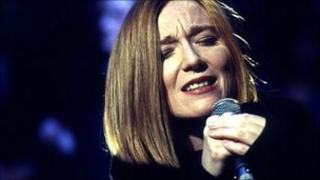 Portishead are preparing for their first US tour since 1998, despite the previous jaunt contributing to the band's nine-year hiatus from recording.
The 10-date tour comes three years after they regrouped to record a long-delayed third album, Third.
Their only US performance since then was at the 2009 Coachella festival.
"On our last tour it collapsed because of personal things, not between the band, but relationships, divorces," Geoff Barrow told BBC 6 Music news.
"We hadn't stopped since [debut album] Dummy," he said, "but it's fine now."
However, producer and instrumentalist Barrow admitted the band's complex, claustrophobic sound often proved a headache to recreate live.
"We have to take out lots of old gear and it's like a jigsaw puzzle, trying to get the right sound," he said.
"It's not like we are pushing 'go' on a computer and singing along to it. It's something a bit more interesting than just straight up rock bands or dance acts."
Portishead achieved overnight success with Dummy, which won the Mercury Music Prize in 1995 with its eerie electronic soundscapes, haunted by Beth Gibbons tremulous vocals.
They followed it up with a grainier, self-titled album in 1997, featuring the top 10 hit All Mine - later covered by Tom Jones.
But the band appeared to split up in the wake of their 1998 US tour, releasing several side projects and producing music for other bands.
However, after making a return to the Portishead name in 2008, they recently confirmed they would start work on a fourth album in January 2012.
Barrow suggested the band's high standards will be tough to maintain.
"It's a very open writing process but we have a very harsh gate to get through.
"The garden can grow any way it wants but to get through that gate at the end is going to take something special," he said.
Barrow added that the band, who currently have no record deal, have been "going to sign to a company, but it didn't work out."
"If we can find someone that leaves us alone and we can trust, then we'd be happy," he continued.
He spoke of independent label XL as an example of a record company that had taken an artistically-led approach to the music business.
"It's brilliant that XL have had the success they've had with Adele, because they put out a record and then 10 million bought it, which is a very old-school way of doing it. It's refreshing."
"[Other labels] have tried to make a formula, and if you make boring music nobody will buy it."
Outside of his work with Portishead, Barrow owns his own label, Invada, which released an album from his side project Beak, in 2009.
Work on another Beak album is almost complete, with a new record planned for next year.