Lion King reigns at US box office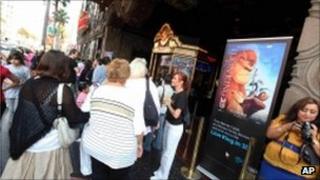 The 3D re-release of Disney's The Lion King has held off Brad Pitt's baseball drama Moneyball at the US box office.
The animated movie reclaimed the number one slot in its second week on the chart, making $22.1m (£14.3m), according to studio estimates.
Brad Pitt's Moneyball opened at number two with $20.6m (£13.3m), while family film Dolphin Tale was close behind with $20.3m (£13.1m).
The re-issue of The Lion King has made $61.7m (£39.9m) since its release.
The original film came out in 1994 and was re-released for the first time in 2002.
The 3D version has surpassed expectations, according to Disney. Its head of distribution, Dave Hollis, said the studio will leave the film in cinemas longer than its planned two-week run.
Action film Abduction, starring Twilight's Taylor Lautner, debuted at number four with takings of $11.2m (£7.2m).
Killer Elite, starring Robert De Niro, Jason Statham and Clive Owen rounded out the top five with takings of $9.5m (£6.1m).
Steven Soderbergh's Contagion, heist movie Drive, civil rights film The Help, thriller Straw Dogs and Sarah Jessica Parker comedy, I Don't Know How She Does It, made up the remainder of the top 10.