Mark Thompson: Journalism entering a 'dangerous period'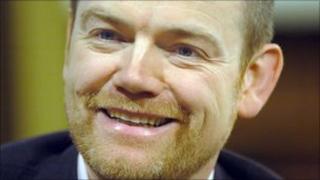 This round-up of Monday's main media stories focuses on a warning about the freedom of journalism in the wake of the phone-hacking scandal.
The BBC director general has warned that British journalism is facing a "dangerous period" because of attempts by police to force news organisations to hand over confidential sources, reports the Guardian. It says Mark Thompson was speaking at the International Press Institute conference in Taiwan, the week after Scotland Yard dropped its attempt to obtain a legal order, which would have compelled the Guardian to disclose the source of a story revealing that Milly Dowler's mobile phone was hacked by the News of the World.
The Daily Mail adds that Mr Thompson also backed self-regulation of the Press. It says he was "sceptical" that newspapers should be regulated in the same way as broadcasters. The paper quotes Mr Thompson: "To put all journalism under a single converged regulator would potentially mean that, if ever the state wished to limit media freedom, it would have a single lever with which to do so." It goes on to mention he said future self-regulation would need "radical reform".
The BBC has been accused of "absurd political correctness" after dropping the terms BC and AD in case they offend non-Christians, reports the Mail on Sunday. It says the Corporation has replaced the familiar Anno Domini (the year of Our Lord) and Before Christ with the obscure terms Common Era and Before Common Era, on programmes such as University Challenge, presented by Jeremy Paxman, and Radio 4's In Our Time. The BBC tells the paper it has not issued editorial guidance on the issue: "Both AD and BC, and CE and BCE are widely accepted date systems and the decision on which term to use lies with individual production and editorial teams."
BBC children's TV programme Blue Peter will be broadcast from its new home in Salford for the first time later, with a new set and a remixed theme tune, reports BBC News. Presenters Helen Skelton and Barney Harwood are on board, but producers have decided not to replace Andy Akinwolere, who left in June. After 53 years in London, the show is among those to have moved in order to boost the BBC's presence in the north.
Neil Wallis, the former deputy editor of the News of the World, was secretly paid £25,000 by News International for providing "crime exclusives" during his time at Scotland Yard, revealed Saturday's Daily Telegraph. It says he was a consultant working closely with Sir Paul Stephenson, the then commissioner, and was paid £24,000 from taxpayer funds for his work at the force.
The Guardian said on Saturday BBC local radio was set to be hit hard by the imminent round of cost cutting at the corporation, with hundreds of hours of local programming likely to be axed: "Large swathes of output outside peaktime programming are expected to be syndicated between neighbouring stations in a bid to cut budgets." A BBC Trust spokesman said they would not give a running commentary on the process. A BBC announcement is expected in early October.
The papers agree that Ed Miliband's proposal to cap university tuition fees in England at £6,000 pounds a year rather than £9,000 is eye-catching. But, the Sun complains, the Labour leader cannot even promise it will be in Labour's election manifesto, as reported in the BBC's newspaper review.