US gospel singer Jessy Dixon dies at 73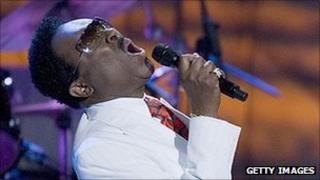 US gospel singer Jessy Dixon, who wrote songs for numerous artists including Cher and Diana Ross, has died at his Chicago home aged 73.
Dixon toured with Paul Simon for eight years during the 1970s and picked up a string of Grammy nominations.
The performer, who began studying music at the age of five, was also a keyboard player with Earth, Wind and Fire.
He was credited with popularising gospel music and bringing it to a wider audience.
As interest in the genre picked up in Europe in the 1980s, Dixon - though his travels outside of the States, began to pick up a large following.
In a 1997 interview, Dixon said that, at first, audiences were small and there was scant appreciation for the religious aspect of the music.
"But now when I go, they ask me to share my faith," he said.
Three years later, he was a special guest on a gospel edition of BBC programme Songs of Praise.
Though it was his gospel talent that first gained him attention, Dixon also penned songs for Natalie Cole, Randy Crawford and Amy Grant and is thought to have written more than 200 compositions.
He first met with Paul Simon at the Newport Jazz Festival in 1972 after the star had split with bandmate Art Garfunkel.
Simon was impressed with Dixon's vocals and collaborated with him on two of his albums.
But the musician remained faithful to gospel music, touring the world and releasing 18 albums during the course of his career.
Dixon is survived by a brother and a sister.