Tinker Tailor Soldier Spy retains UK box office title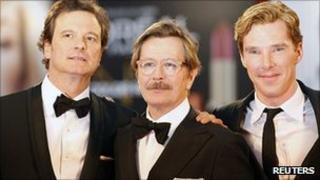 The new film adaptation of Tinker Tailor Soldier Spy remains number one in the UK and Ireland box office for the second week running.
The film, starring Colin Firth, has now taken a total of £6.9m since it opened.
Romantic comedy Crazy, Stupid, Love, starring Steve Carell, opened at number two and Warrior debuted in third place.
The Inbetweeners Movie fell two places to four, followed by another new release, Drive - starring Ryan Gosling, which rounded off the top five.
The largely anticipated Tinker Tailor Soldier Spy, is based on the espionage novel by John le Carre.
It was originally adapted into a BBC drama in 1979 featuring Alec Guinness and Ian Richardson.
Crazy, Stupid, Love sees Carell star opposite Julianne Moore as a divorcing couple.
The actor recently left his award-winning role as Michael Scott in the US version of The Office.
Gosling co-stars in the film, which took £860,112 in tickets sales.
He can also be seen alongside British actress Carey Mulligan in Drive, as a stuntman who moonlights as a getaway driver.
Action movie Warrior, about two brothers who compete in a mixed martial arts tournament, took £808,410 and The Inbetweeners took a further £754,226 in its sixth week.
In sixth place this week was Justin Timberlake's movie Friends With Benefits, followed by Killer Elite at number seven.
Jane Eyre and The Change-Up were at eight and nine respectively and Steven Spielberg's re-released Jurassic Park opened at number ten with ticket sales reaching £245,422.