Rock Of Ages show divides theatre critics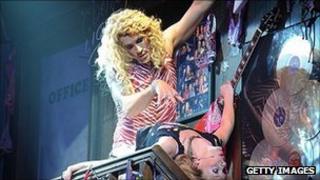 Hit Broadway musical Rock Of Ages, which opened in London's West End this week, has received mixed reviews from critics.
The show, starring Shayne Ward and Justin Lee Collins, is set on the Los Angeles' Sunset Strip in 1987.
The Independent's Pierre Perrone gave it four stars calling it a "feel good" musical that is "hard to fault".
But The Telegraph's Charles Spencer said the jokes were "unfunny" and the story was "predictable".
Awarding the show one star, Mr Spencer wrote: "This is as unpleasant a pile of theatrical poo as it has ever been my misfortune to tread in."
Michael Hann also awarded the musical one star. Writing in The Guardian, he said: "It's a very peculiar show indeed, with an unvarying and unpleasant tone of careless sexualisation."
He went on to describe Ward as "distinctly charisma-less" and his co-star Lee Collins as having "fractionally more appeal".
But Alun Palmer only had positive things to say about the musical, writing in The Daily Mirror that it was a "hugely enjoyable evening celebrating a time and music we should really leave behind, but can't".
The Art Desk's Kieron Tyler remarked on the "tissue-thin plot" which "flags midway in the first act".
In The Times, Dominic Maxwell agreed, calling the story "corny".
He said the script, which was written by Chris D'Arienzo , has "some nice touches", but does not "sustain two hours".
The show, which tells the story of Drew, a boy from South Detroit, and small-town girl Sherrie, who fall in love as they dream of stardom, has proved a major draw on Broadway.
It was nominated for five Tony Awards, but ultimately did not win.