Tony Bennett tops US chart at 85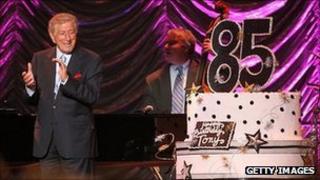 Legendary singer Tony Bennett has become the oldest living performer to score a US number one album, hitting the top spot at the age of 85.
The album Duets II, which features Amy Winehouse, Lady Gaga and Mariah Carey, is also the first US number one of the star's 60-year career.
The crooner, who has won 14 Grammy Awards, rose to fame in the 1950s.
The chart news comes after Bennett caused controversy by suggesting that US action prompted the 9/11 attacks.
In an interview with radio host Howard Stern last week, Bennett said: "Who are the terrorists? Are we the terrorists or are they the terrorists? Two wrongs don't make a right.
"They flew the plane in, but we caused it. We were bombing them and they told us to stop."
He later issued an apology, saying that as a World War II veteran, he was "proud to fight to protect our values".
He added that he believed that "violence begets violence and that war is the lowest form of human behaviour".
"I am sorry if my statements suggested anything other than an expression of my love for my country, my hope for humanity and my desire for peace throughout the world," he added.
Duets II sold 179,000 copies in its first week, according to Billboard magazine.
It includes Amy Winehouse's last recording, on the track Body And Soul.
Last week's number one album, Lady Antebellum's Own the Night, fell to number two, while Adele's 21 dropped to third place.