Carol Ann Duffy 'waiting for David Beckham's boots'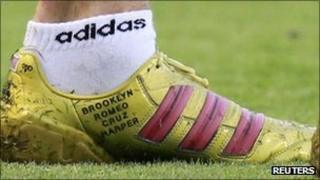 Poet laureate Carol Ann Duffy says she is still waiting for a pair of football boots promised to her by David Beckham after she wrote a poem about him.
Duffy was inspired to write Achilles by Beckham's injury that kept him out of England's 2010 World Cup campaign.
She said that when Beckham asked for a handwritten copy, she agreed to send one in return for a pair of his boots.
"He's got the bloody poem, I haven't got the boots," she told Mark Lawson for BBC Radio 4's Front Row programme.
Footballing consciousness
Duffy's work contains references to Achilles - the greatest warrior in the Trojan war, according to ancient Greek mythology - with allusions to football field battles and Beckham himself.
"Beckham struggled to get fit and play for England which I think was very much part of the footballing consciousness of the country," she told Front Row.
She added it "seemed to me complete Greek myth that it happened and I just found the connection occurring to me".
"Interestingly when it was published, Beckham himself - in fact if he's listening to this - asked for a handwritten copy of the poem because he apparently liked it very much.
"And I said, 'well yes if I can have a pair of your boots' and so the deal was struck but I haven't had the boots yet."
She said she had been waiting for the boots "for about six months".
"Mind you, he's had a baby so I'll have them by Christmas please," she added.
Listen to the Carol Ann Duffy Front Row Special on Friday at 1915 BST on BBC Radio 4.