Shania Twain 'stalker' tells court he will plead guilty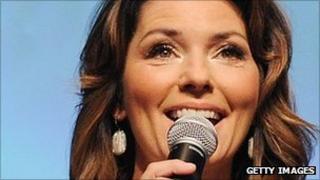 A doctor accused of stalking Canadian singer Shania Twain interrupted her testimony in a Toronto court to tell her he will plead guilty to charges.
Using her real name, Giovanni Palumbo stood and said: "Eilleen, you can trust me, I'm going to plead guilty. I've been offended too much, your honour."
She was giving evidence by video link.
She had told the court that his love letters and unexpected visits to her family's cottage in Ontario made her feel uncomfortable.
Mr Palumbo is charged with three counts of failing to comply with a court order and harassment.
During her testimony, the singer, who was born Eilleen Regina Edwards, told the court Mr Palumbo had even appeared at her grandmother's funeral.
Ms Twain said she hired security for a family gathering at her cottage because Mr Palumbo was repeatedly seen in his parked Lamborghini nearby.
And she said he visited her brother-in-law's garage pretending there was a problem with his car because he wanted to be closer to the star.
"The manipulation scared me a bit," said Twain, who will begin a two-year residency at Caesars Palace in Las Vegas in December.
The court heard that one of the letters read: "I love you more than quotes can describe. I love you more than anything in the universe. I need you more than anyone else in the world."
Following a short break that followed Mr Palumbo's interruption, Ms Twain continued with her evidence.
The trial was due to continue on Friday.