Freedom of expression favoured over privacy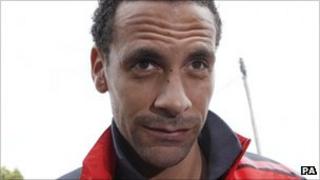 This round-up of Friday's main media news reports on a privacy case that has favoured freedom of expression over the right to privacy.
Football star Rio Ferdinand has lost his High Court privacy action over a story in the Sunday Mirror about an alleged affair, reports the Daily Telegraph. It says the Manchester United player accused the paper of "misusing private information after it published an interview with interior designer Carly Storey, who was paid £16,000 to disclose details of their relationship".
But the Telegraph goes on to report "Mr Justice Nicol dismissed the claim, ruling in favour of the newspaper's right to freedom of expression and questioning Ferdinand's suitability for the role of captain".
The launch of the Health Lottery by Richard Desmond is making waves. Press Gazette reports that "an irate journalism academic is complaining to the Advertising Standards Authority over yesterday's Daily Express front page story, which carried the headline: 'New Lottery to make Britain Better'. It says: "Philip Cowan, a senior lecturer in journalism at the University of Hertfordshire, believes the stories may break the ASA code, which states: 'Marketers and publishers must make clear that advertorials are marketing communications; for example, by heading them 'advertisement feature'."
The Daily Mail says it has teamed up with the Big Lottery Fund to launch a new £110m "Silver Dreams Fund", which aims to help older people get more involved with their communities and to recognise the positive contribution they make to society. The paper says: "It will provide National Lottery grants for inspirational projects that help retired people to remain independent, and which would encourage the more active to support others."
Primary school pupils will be shown airbrushed images of a scantily-clad Britney Spears as part of an attempt to show them the "impossible standard" set by advertising and media, reports the Daily Telegraph. It says: "The teaching pack, which can be downloaded by school staff, was developed by a not-for-profit organisation called Media Smart, which says it is 'funded by the advertising business in the UK and is supported by the UK and EU governments'."
Newspapers welcome the launch of a £250m fund to pay English councils for weekly Bin collections. "Sanity at last," is the Daily Express reaction, while the Daily Mail welcomes the government's "U-turn on a U-turn", as reported in the BBC's newspaper review.