Corrie star Craig Gazey heads for Third Floor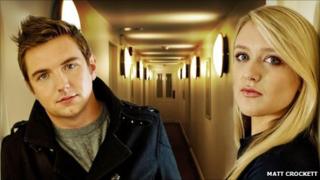 When Craig Gazey left Coronation Street in the summer it was to return to his main love: theatre acting. So how is he feeling on the eve of his first play for four years? And how much is he missing his soap alter ego Graeme Proctor?
When Craig Gazey joined the cast of ITV1's Coronation Street in 2008, he made a note in his diary not to stay for longer than three years.
He stuck to his plan. In June Gazey's character, Graeme Proctor - the ex-arsonist turned window cleaner - left Corrie's cobbles after a plot line involving a fake wedding and a messy love triangle.
The eccentric character, who often got the soap's best one-liners, won Gazey the most popular newcomer prize at the 2010 National TV Awards.
"It's a big thing to leave a big show, and lots of people have asked why I'm going," says the 29-year-old actor during rehearsals for new thriller Third Floor.
"I wanted to come back and do the theatre. I came out to do a mixture of jobs.
"I'm a character actor. But if you've just got one character, you become Graeme."
Third Floor, a new play by Jason Hall, is a two-hander with Gazey and Emily Head (Carli D'Amato in The Inbetweeners) about the joys and perils of urban living.
'Social issues'
Set in the corridor of a new apartment block, the story begins when a young woman (Head) moves into her first flat and gets to know her brash and gaffe-prone neighbour (Gazey).  But their newly-formed friendship is soon put to the test.
"Let's just say my character has social issues," says Gazey. "The play's a social commentary on how we interact with our neighbours. Do we need our neighbours and should we trust our neighbours?"
Gazey, who has just moved out of just such a development after more than two years, admits he never struck up a conversation with his neighbour.
"I just said hi. I suppose it's embarrassment - when do you break the ice? There's that window of opportunity at the beginning, and what happens if you miss it?"
Having filmed his last scenes for Coronation Street in May, Gazey left feeling he had ticked "a lot of boxes", especially the one marked comedy.
"One of the main reasons Coronation Street is brilliant is those little scenes in the shop, those little scenes about nothing."
As someone who had been on stage since the age of five, Gazey also learnt the craft of acting in front of a TV camera.
He says of theatre and TV acting: "It's like being a plasterer or a bricklayer - they are completely different but they are in the same genre."
Like Gazey, Coronation Street actress Katherine Kelly, who plays Becky McDonald, is also quitting the show this year for a stage role. She is due to appear in 18th Century comedy She Stoops To Conquer at the National Theatre in 2012.
In his pre-Corrie days, Gazey's previous theatre credits included The Tempest, Antony and Cleopatra and Julius Caesar at the RSC and Harvest at the Royal Court.
But it is The Merchant of Venice at Shakespeare's Globe in 2007 which Gazey cites as his most memorable stage experience.
And with good reason. Firstly, the actress playing Portia had left for personal reasons during previews, causing the opening night to be put back.
When it did take place, the actor playing Gratiano succumbed to gastric flu and was unable to go on after the interval.
Gazey, who was playing Launcelot Gobbo, takes up the story: "We had this dilemma, so [the director] Dominic Dromgoole got us all together and there were a few discussions. I only had two or three scenes after the interval so and I put my hand up and said 'I'll read in from the book' - and he snapped his fingers and he said, 'Get him a costume' - and we did it."
The Independent's review spoke of Gazey's "likeably undaunted" performance.
Gazey adds: "The funny thing was, I'd sprained my ankle playing volleyball before that performance, so I was limping about on painkillers doing two parts.
"And I'm not bitter about this, but one online review said: 'Craig Gazey managed to over-act even more in his new role than his old one'!"
Gazey needn't have worried. Less than a year later he was playing David Platt's cellmate in the world's longest-running TV soap opera.
For the Manchester-born actor, the career move may not have been such a surprise. At the end of our interview he offers a quote from his childhood: "As a kid when you said you wanted to be an actor, no-one would say: 'See you in Hollywood'. They'd say: 'See you on Corrie'."
Third Floor, by Jason Hall, is at Trafalgar Studios 2 from 11 October - 5 November.