Great British Bake Off winner is crowned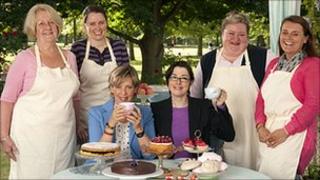 Essex mother-of-three Jo Wheatley has been named winner of the second series of The Great British Bake Off.
Judges Mary Berry and Paul Hollywood chose the 41-year-old, who bakes up to 10 times a week, for the selection of cakes she made for the final.
Ms Berry called her mini Victoria sponge sandwiches, white chocolate and raspberry pistachio meringues and mini banoffee pies "exceptional".
Ms Wheatley said it was a "privilege" to take part and "amazing" to win.
She was encouraged to enter the competition by her three sons and went on to beat fellow finalists Holly Bell and Mary-Anne Boermans to the title.
"It's been fun and it's been hard work in equal measures and I'm so glad that I wrote on that application form, I so nearly didn't," Ms Wheatley said.
The series has proven to be a popular show for BBC Two, with almost four million viewers a week tuning in to watch the 12 amateur baking contestants battle it out.
Each week they were required to bake cakes, breads and pastries.
They judged on the taste of their baked goods, but also their technique and presentation.
Last year's winner Edd Kimber has recently published a cookbook and also teaches baking classes.