Playboy Club TV drama culled by NBC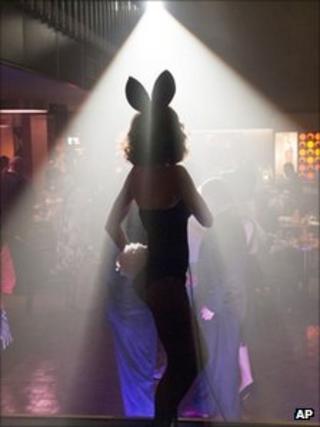 A controversial TV drama about Playboy bunnies has been axed in the US after just three episodes.
Set in 1960s Chicago, The Playboy Club suffered poor ratings, mixed reviews and protests by activists who tried to encourage an advertiser boycott.
The show, whose period setting had invited comparisons with Mad Men, was produced in conjunction with Hugh Hefner's Playboy Enterprises.
The 85-year-old narrated the pilot that kicked off the series on 19 September.
NBC said it would replace the programme with a new news magazine show, hosted by US anchorman Brian Williams.
The Playboy Club had starred Amber Heard as a bunny girl employed at the first nightclub set up by Hefner's magazine empire.
The show had hoped to capitalise on the appetite for period dramas inspired by Mad Men, about advertising executives working in 1960s New York.
ABC's newly launched Pan Am, about stewardesses working for Pan American Airways during the era, has also been compared to the AMC network's ratings hit.
Lobbying group the Parents Television Council said it was pleased NBC had cancelled The Playboy Club, a show it had called "degrading and sexualising".