Banned horror film gets 18 rating after cuts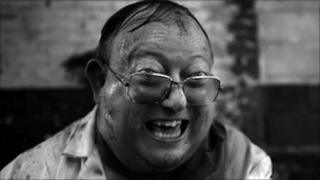 A horror film denied a rating for posing a "real risk of harm" has been granted a certificate by the British Board of Film Classification (BBFC).
The Human Centipede 2 had been denied a rating but has now been rated 18 after its distributor agreed to 32 cuts.
BBFC president Sir Quentin Thomas said many would find it "difficult" to watch but that the cut film could "properly be classified at the adult level".
Two minutes and 37 seconds have been removed ahead of its DVD release.
The BBFC said the cuts "address all the concerns raised when the board refused a classification" in June.
Those concerns, it went on, included those "relating to sexual violence, graphic gore and the possibility of breach of the law relating to obscenity".
One of the BBFC's vice-presidents, Gerard Lemos, felt the film remained unclassifiable and abstained from the board's collective decision.
'Slight disappointment'
A sequel to 2009's The Human Centipede, it tells of a man who, inspired by the first film, attempts to replicate its bizarre people-grafting experiments.
Eureka Entertainment, the film's UK distributor, said they were "really pleased" that an agreement had been reached but felt "slight disappointment" that cuts had been required.
However, continued its sales director Ian Sadler: "We feel that the storyline has not been compromised and the level of horror has been sustained."
A total of 11 films have been banned in Britain since the BBFC - formerly the British Board of Film Censors - was set up in 1912.
Grotesque, a 2009 Japanese horror film, was the last film to be refused a classification in the UK.