Nora Ephron to pen Lost In Austen film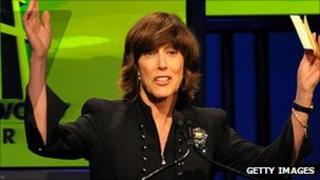 Oscar-nominated film maker Nora Ephron is set to to turn ITV's Lost In Austen into a Hollywood movie, according to reports.
Industry magazine Variety said the When Harry Met Sally writer will pen the script as well as direct the project.
The story follows a modern New York woman transported into the middle of Jane Austen's Pride and Prejudice.
Gemma Arterton will play the role of Elisabeth Bennet and American Beauty director Sam Mendes will produce.
Ephron made her mark writing original material, but in recent years has adapted scripts such as the 2000 remake Bewitched.
The original series was screened on ITV in 2008 and written by Guy Andrews, whose other credits include Poirot and last year's remake of Bouquet of Barbed Wire.