Damien Hirst reveals glimpse of his own art collection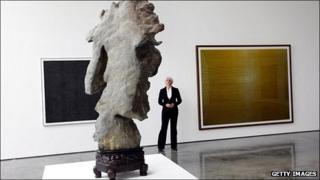 Artist Damien Hirst has unveiled some of his own private art collection, including a series of rocks, at a new London gallery.
The ancient Chinese scholars' rocks forms part of the Structure and Absence exhibition, which is being displayed at the White Cube Bermondsey.
The naturally occurring rocks are thought to have been used as objects of trade and contemplation.
Works by Andreas Gursky and Gary Hume are also in the gallery's first show.
Other pieces on display include Hirst's largest medicine cabinet and one of his spot paintings, which are both for sale.
The gallery, which opens its doors to the public on Wednesday, is thought to be the biggest commercial gallery in Europe and will join existing White Cube galleries in Hoxton and St James in London.
White Cube, set up in 1993, is best known for exhibiting the work of contemporary artists such as Hirst and Tracey Emin.
Gallery owner Jay Jopling said: "The opening of White Cube Bermondsey is an affirmation of the ongoing strength of London as a creative hub and the next chapter in White Cube's history."