Premier league football TV deal threatened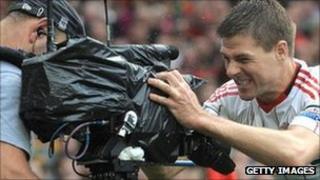 This round-up of Wednesday's main media stories reports on a possible new shake-up for football TV rights.
The Guardian says the deal that shares television's billions equally between Premier League clubs is facing its biggest threat, after Liverpool announced they would lead a challenge for overseas TV rights to be sold on a club-by-club basis. It says Liverpool's managing director, Ian Ayre, has insisted the break-up of the established broadcasting deal, worth £3.2bn to all Premier League clubs is "a debate that has to happen".
http://www.guardian.co.uk/football/2011/oct/11/liverpool-breakaway-tv-deal?intcmp=239
Millions of BlackBerry mobile users endured a second day without access to the internet on Tuesday, reports the Daily Telegraph. It says this was despite a claim by the firm behind the smartphone brand it had "restored" online services in the wake of a similar collapse on Monday.
http://www.telegraph.co.uk/technology/blackberry/8820842/Second-outage-deepens-BlackBerry-crisis.html
Roy Greenslade gives his verdict on the revamped Independent: "the big red masthead is all about shouting louder. And I have to say it looks good, clean and functional without appearing gaudy... Overall, the new Indy comes across as a more coherent paper with the same serious content though, of course, it is still not as comprehensive as its main rivals."
http://www.guardian.co.uk/media/greenslade/2011/oct/11/theindependent-newspaper-formats
"Freelance journalist Rob Crilly broadcast his distress to millions when he complained about his line manager on Twitter", reports London's Evening Standard. It says the journalist, who is based in Pakistan and writes for the Daily Telegraph, was livid at the rewording of an article he wrote on the Libyan civil war. His comments were transmitted to his 7,800 Twitter followers - and on the Telegraph website, which uses automatic feeds of reporters' tweets and is read by more than two million people.
http://www.thisislondon.co.uk/standard/article-23996935-reporters-twitter-rant-to-2million-readers-boss-screwed-me-over-story.do
The controversy surrounding Liam Fox continues to feature heavily on the front pages, as reported in the BBC's newspaper review.
http://www.bbc.co.uk/news/uk-15269519