Stolen Sir Peter Blake statue replaced with copy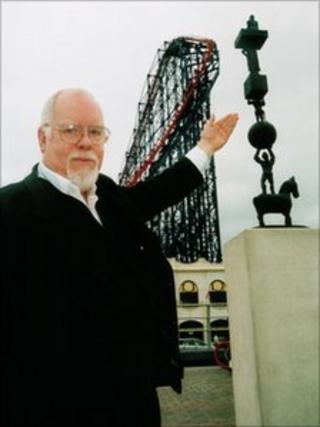 Artist Sir Peter Blake's only public sculpture is to be replaced with a replica after the original was targeted by metal thieves.
Bronze figures and shapes were stolen from his Life Is A Circus statue on Blackpool seafront in August.
He has agreed to let Blackpool Council install a replacement, which is likely to be made from metal-coated concrete.
Sir Peter told BBC News he did not mind what material his work was made from as long as "it looks about the same".
The artist, best-known for designing The Beatles' Sgt Pepper album cover, was speaking as he was unveiled as the patron of the John Moores Painting Prize, which is held in Liverpool every two years.
"It just is so silly to steal something just for the value of the bronze," he said. "You wouldn't get a lot for it. So it's such a daft robbery."
He added that he did not object to the use of a replica in the circumstances. "Having been damaged once, I suspect it would happen again," he said. "So I think it's probably the best thing to do."
Life Is A Circus consisted of a tower of four bronze figures holding shapes, all balancing on a horse.
The thieves cut off the sculpture at the elbows of the lowest figure. The remains, and a similar sister sculpture, were taken into storage for safe keeping.
"Following Sir Peter Blake's approval, we will be re-casting the statues and replacing them back in the South Beach area," a statement from Blackpool Council said.
"For both security and cost reasons, these replacements will not be bronze but are more likely to be metallic coated. The old statues will be exhibitioned in a place around town where they can still be enjoyed but are also kept secure."
The decision comes a week after a £1.6m artwork installed in the pavement outside the Laing Gallery, Newcastle's main city art gallery, was damaged by thieves attempting to steal bronze parts.
Meanwhile, Sir Peter was announced as the patron of the John Moores Prize 50 years after he beat David Hockney to win the junior section.
The 79-year-old artist said the victory was a key moment in his emergence onto the art scene.
"Really, my career started to happen then," he said. "I won £250, which was quite a lot then, which in fact I gave to my dad who set up his own electrical business with it.
"I was teaching by then so I suppose I was managing OK, so looking back it was a good thing to have done."
He also helped judge the award in 2006. Entries are now being accepted for the 2012 prize, which has a £25,000 first prize and is judged anonymously. It is open to all UK-based artists working with paint.
The Walker Art Gallery in Liverpool is also hosting an exhibition of one of Sir Peter's alphabet series until 4 December.