Manic Street Preachers plan their 'final phase'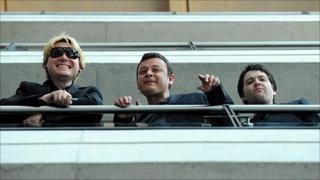 The Manic Street Preachers say they are going to disappear for a few years and return for a "final surge", which will be "a big reinvention" for the band.
The Welsh rockers release their singles collection, National Treasures, on 31 October, but Nicky Wire told BBC Radio 4's Front Row he doubts they will ever release a single again.
"This (album) is drawing a line in the sand, really. When we come back it will be the final phase of us as a band and it has to be in a different form.
"We can't pretend a band in their 40s making guitar rock can have huge hit singles, because it just doesn't happen any more unless you totally sell out every single bit of your life."
And that new final phase? "Something that is more indulgent I guess," says Wire. The lyricist and bassist adds that the band will never release their material solely on digital formats.
"I think I'd rather just sell CDs from our studio in Cardiff at the door. Just ask people to queue up and hand over a tenner or fiver," he says, laughing.
"The kind of virtual anarchy that exists online - it's just not in our DNA. It's not relevant to us and by trying too hard to embrace it, I think demeans you a bit. It's fine for a generation who literally think music is for free."
But he admits he feels sad at the thought of not writing singles any more because creating "the big single before the album has been such a challenge, it's a real art form."
With National Treasures, the Manics have compiled their entire back catalogue of singles, even the ones that they are not so keen on.
"Some of them are just incredibly young and naive," says Wire.
"I think we were embarrassed by some of those songs... But at the end of the day, they're all our babies and we love them all - even the runts."
'Seismic shift'
The first 16 tracks on the album feature the band's main lyricist and guitarist Richey Edwards, who vanished in 1995.
But Wire says he does not think of the band in terms of "before and after" Richey.
"I think of ourselves as a complete piece, if you know what I mean, but undeniably there was a seismic shift when he disappeared. It is a matter of deep regret.
"Live there's always a gap - that symmetry has never returned. I think we've made music [that's] as good but live we've never looked as good. He's a massive important part of our lives and the band."
Richey was officially declared "presumed dead" in 2008 and Wire says he thinks of him constantly.
"There's not a day goes by that I wish I didn't have his severe intellect and forensic critique by my side. I couldn't keep up with him at the end.
"It was probably problematic for him at the end that his brain was working so fast and on such a high level. But it was amazing to kind of suck up all the residue of his intelligence."
Wire also confirmed that there is an ongoing royalties account for Richey that will continue indefinitely.
"I don't want to pretend we're taking huge credit for it. It was obviously the right thing to do as he played a big part in lots of those songs. We always split everything as a band four or three ways, no matter who wrote what."
Alongside his reluctance to embrace the digital age, Wire realises the band would struggle in the music industry if they were starting out today.
"I'm so grateful that I grew up in a time where record companies actually supported you," he admits.
"We would have been dropped, undoubtedly, because we spent an absolute fortune on our first record, which did OK but The Holy Bible (their third album) was a commercial disaster.
"There's no way we would have stayed on at [record label] Columbia and luckily enough we've been on it for 22 years. Apart from Bruce Springsteen I think we're the longest serving artist on there."
So do they see themselves as National Treasures, as the album title suggests?
"There's a huge dollop of irony involved," says Wire. "It goes back to when we started and one of the first singles was You Love Us. At the time we were pretty much hated.
"I think we've been around so long now and we've released so much work that there's just a hint that we might be seen in that light."
You can listen to the full Radio 4 Front Row interview with Nicky Wire on BBC iPlayer.