Real Steel fights for US chart glory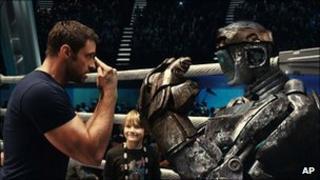 Hugh Jackman film Real Steel is in a tight battle to hold on to the number one spot in the North American cinema box office.
The film, set in a future where robot boxing is a major sport, took $16.3m (£10.3m) in its second weekend according to early estimates.
But the remake of 1984 film Footloose opened close behind with $16.1m (£10.2m).
The films could trade places once final figures are released later on Monday.
Studio estimates are made up from box office receipts on Friday and Saturday and projections for Sunday based on the typical performance of similar movies.
Real Steel's distributor Disney said it expected the movie would come out on top due to strong family crowds during daytime shows on Sunday.
The reboot of Footloose sees Dennis Quaid as the Reverend in a small town that imposes a ban on dancing.
The role was played by John Lithgow in the original.
Newcomer Kenny Wormald stars as rebellious teenager Ren, originally made famous by Kevin Bacon.
Although it is rare for films to change chart positions once final figures are released, box office analyst Paul Dergarabedian said there had been "a lot of close races this year".
"I don't think there have been as many breakout hits, so you have a lot of these films just kind of bunched up together," he said.
Elsewhere on the chart, The Thing - a prequel to the 1982 horror of the same name - opened at three with $8.7m (£5.5m), while George Clooney drama The Ides of March fell two places to four.
The other new entry was bird-watching comedy The Big Year at nine.
Starring Steve Martin, Owen Wilson and Jack Black, it took a modest $3.3m (£2.1m).