Dame Elizabeth Taylor remembered at private memorial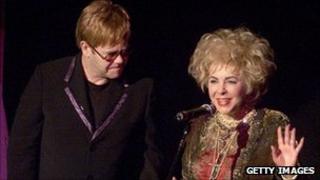 Sirs Michael Caine and Elton John were among those who attended a memorial service for Dame Elizabeth Taylor on Sunday, according to US media reports.
Around 400 people attended the private event, held at the Warner Bros studios in Burbank, California.
Actor Colin Farrell hosted the service, while Sir Elton sang Blue Eyes.
The singer remembered the actress, who died in March aged 79, as "a pioneer, a pathfinder, a trailblazer and a star who will always burn bright".
"To say that the world got smaller, emptier, darker and lonelier when we lost Elizabeth is an understatement," he is quoted as saying.
Further tributes were paid by Who's Afraid of Virginia Woolf director Mike Nichols and Kate Burton, the late star's stepdaughter.
Speaking to People.com afterwards, her son Michael Wilding said it had been "especially meaningful... to be with so many good friends."
Winner of two Oscars, the actress was renowned for her beauty, numerous marriages and her charity work to help the fight against HIV and Aids.