Venice painting kept in country by export ban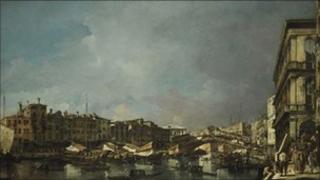 A view of Venice that sold at auction in July for £26.7m has been temporarily stopped from being sold abroad.
Culture minister Ed Vaizey has placed a temporary export bar on the painting that could remain until July 2012.
This gives interested parties a limited period to raise the funds required to keep the artwork in the UK.
Venice, a View of the Rialto Bridge, Looking North, from the Fondamenta del Carbon set a new auction record for the 18th Century painter Francesco Guardi.
The ruling follows a recommendation by the Reviewing Committee on the Export of Works of Art and Objects of Cultural Interest, administered by Arts Council England.
The committee ruled that the export decision be deferred because the painting is "of outstanding aesthetic importance and of outstanding significance".
The decision on an export licence application for the painting will be put off until 16 January 2012.
If a serious bid is made or proposed, that deadline may be extended by an additional six months.
When sold at Sotheby's in London earlier this year, Guardi's view of Venice set an auction record for a painting depicting the Italian city.
The work - one of four Venetian views executed by the contemporary of Canaletto in the late 1760s - was sold to an anonymous bidder.