Claude-Joseph Vernet landscapes reunited in US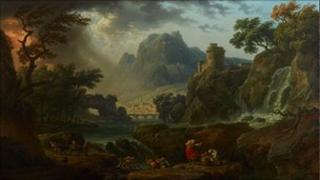 Two landscapes by 18th Century French master Claude-Joseph Vernet have been reunited after more than 200 years at the Dallas Museum of Art.
A Grand View of the Sea Shore and A Mountain Landscape with an Approaching Storm were commissioned in 1774 by English collector Lord Lansdowne.
They hung together at his London home until his death, then were sold to separate private collections in 1806.
The paintings will be on view at the museum until 11 December.
The large-scale pieces depict the scenes of an unruly rustic landscape and a tranquil seaport.
A Grand View of the Sea Shore depicts elegant buildings at sunset, while A Mountain Landscape portrays an ominous rocky terrain with villagers scrambling from an impending storm.
'Complex dialogue'
The museum acquired the latter painting several decades ago, but the reunion has been made possible thanks to a loan of the former from US businessman and private collector David H Koch.
Associate curator Dr Heather MacDonald said the museum had sought to bring the two works back together since January when it was discovered the seaport painting had not been lost, as had long been presumed.
"In bringing the pair back together, we are finally able to fully experience the contrasting natural effects and the complex dialogue of aesthetics and ideas created by the two scenes," she said.
By the late 18th Century, Vernet was among the most famous and influential artists in Europe and an elder statesman at the French Academy in Paris.
The most significant commission of his career came in 1753, when Louis XV asked him to create a series of large topographic views of French ports.