Final River Phoenix film to be released after 18 years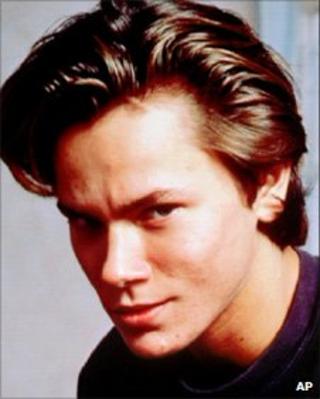 The film River Phoenix was working on when he died is to be finished and released, 18 years after his death, the director has announced.
George Sluizer told The Hollywood Reporter he hopes to release Dark Blood next year.
The filmmaker said he plans to ask Phoenix's brother Joaquin to record the film's voiceover because "the voices of both brothers are very much alike".
Phoenix died of a drugs overdose in 1993, aged 23.
Just 11 days of filming on Dark Blood remained at the time.
The producers later attempted to sue his mother for $6 million (£3.8 million) saying he did not declare his drug use. The case later collapsed.
However Sluizer, who directed Spoorloos and The Vanishing, has stayed in touch with the Phoenix family in the intervening years.
He told The Hollywood Reporter he had kept the Dark Blood footage hidden all this time, fearing it would be destroyed.
It has now been re-edited and Sluzier believes that with a few adjustments, including the creation of a voice-over, he can complete the movie.
The story concerns a widower living on a nuclear testing site in the desert, who comes to the rescue of a couple of honeymooners when their car breaks down.
Child star
Alongside Johnny Depp, Christian Slater and Keanu Reeves, Phoenix was regarded as one of the leading young actors of his generation when he died outside the Viper Rooms in Los Angeles in 1993.
He was there with his brother Joaquin and girlfriend Samantha Mathis when he took a cocktail of drugs, suffering seizures outside the club.
His death certificate put the cause down to multiple drug intoxication.
His body was cremated and the ashes scattered over the family ranch in Florida.
The star had been encouraged to go into acting from a young age, and by the time he was 10 had roles in TV series including the short-lived Seven Brides For Seven Brothers and Celebrity.
Stand By Me, a coming-of-age fable based on a Stephen King story, proved to be his breakthrough and he followed it up with an acclaimed performance in the gritty Mosquito Coast, starring alongside Harrison Ford and Helen Mirren.
The young actor received an Oscar nomination in 1989 for his supporting role in Sidney Lumet's Running On Empty - in which he played the eldest son of a couple of war protesters living on the run after bombing a napalm plant during the Vietnam War.
That film began his passage from child star to adult actor, a journey he completed with a daring portrayal of a rent boy in Gus Van Sant's My Own Private Idaho.
Later films included Sneakers, Dogfight and The Thing Called Love. At the time of his death, he was also signed up to appear in Interview With The Vampire.